"Every journey begins with a single step." ­— Lao Tzu
---
There are tour guides and then there are tour guides. Francesca Lombardo is a published author, a licensed tour guide and a certified sommelier, who also happens to have taught in Italian schools for a number of years.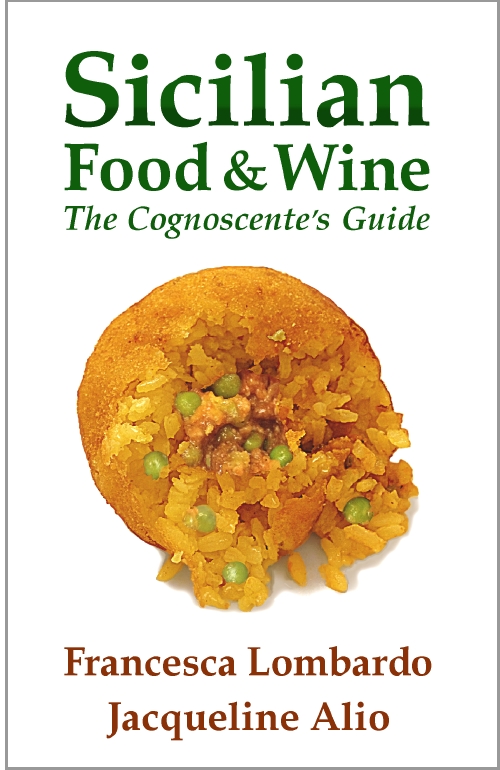 Fluent in Italian, English and German, she is an exceptionally knowledgeable guide experienced in planning unique itineraries for tours and excursions around Sicily.
In Sicily one meets Europe in the shadow of Africa, just beyond the reach of western Asia. The world's most conquered island boasts a uniquely rich, multicultural heritage, reflected in everything from its art, architecture and literature to its cuisine. The focus of Francesca's book is food and wine, but her tours encompass many themes.
To say that your travel experience will benefit from Francesca's varied professional experience is an understatement. In hiring a guide, it is experience and expertise that count. Attention to detail is equally important.
Most of all, your visit will be a pleasantly memorable one. Sicily will dwell in your soul.
Every journey begins with a first, single step, and the first step of your Sicilian visit, before you even arrive, is an idea. Here are a few, beginning with day tours, walking tours and shore excursions from Palermo, where Francesca is based, and followed by a sample itinerary of a tour around the island.
Of course, each travel experience is unique. These are simply ideas to get you started. Contact Francesca (lofran07@libero.it) for more information and a quote. One might think of these personalized tours as "luxury tours," but they cost a bit less than you may imagine.
---
---
From Linda:
"On September 10 you were our guide to Monreale and Corleone. We have been meaning to write and thank you for a most wonderful day in Sicily, but since we've returned, we've been so very busy. We just wanted you to know that spending the day with you was one of the highlights of our trip. Your knowledge of history and culture was so helpful in our ongoing travels around Sicily. It helped us really appreciate the diversity of people, customs and food and appreciate the many peoples who have lived there. Thank you for being such a wonderful guide. We will highly recommend you to any friends who may be coming your way."
From Barbara:
"I wanted to thank you again for the wonderful walking and driving tour of Palermo and Monreale last month and say that it was one of the high points of my Mediterranean Cruise. It was also very special to visit Villa Malfitano and share in Kathleen's excitement in seeing her ancestors' home."
From Michael:
"Just wanted to say how much we enjoyed being with you the last week and a half. Appreciated your expertise in visiting so many wonderful places which began in Palermo. To say I took a crash course in the history of Sicily is putting it mildly. Hope our paths cross again soon."
From Sally:
"I have now arrived back home and I can't stop thinking about all the wonderful memories you helped create for Lex and me. You are truly gifted at what you do, and your food tastes are fantastic, as is your knowledge of wine and Sicily. You guided us with such perfect professionalism and you were a joy to be with. Plus you are a safe driver in a crazy driving community!"
From Anne and Michael:
"We are now back home after our Sicily trip and I thought I would send you an e-mail to thank you for the fantastic two days you organized for us. You really selected some varied and interesting wineries for us to visit, in spite of having to rearrange a substitute on the second day. The short trips around Noto and Modica (and directions to the Bancomat!) were much appreciated. We very much enjoyed your conversation and company and how you accommodated our requests."
---
Palermo Day Tours and Excursions
Arab, Norman & Swabian Palermo (full day, 7 hours)
In the Middle Ages Palermo was one of the richer and more important cities of Europe, representing a mix of peoples, cultures and religions. We will begin our visit of this multicultural city with the Norman Palace built by King Roger II, defined by 19th century travelers as "the jewel of Sicily." Nearby is the cathedral, also built during the Norman period (12th century). Here we find the tomb of Roger II and Constance, his daughter. Also present is the tomb of Henry of Swabia and his son, Holy Roman Emperor Frederick II. Then we'll walk to the Quattro Canti, visiting the Martorana and Saint Cataldo churches – both built in the eclectic Norman-Arab style. We'll also visit one of the outdoor "street" markets of Palermo. Monreale, with its cathedral and cloister, is one of the great landmarks of medieval ecclesiastical architecture in southern Italy.
Discover Palermo (half day, 4 hours)
Discover the monuments and lesser-known sights of Palermo. From the Quattro Canti we'll walk to Piazza Sant'Anna where in times past spices and perfumes were sold, near Palazzo Gangi, one of the city's most important aristocratic homes. Passing Via Paternoster we reach Piazza San Francesco with its 13th century Romanesque-Gothic church. Next to he church is one of the more important oratories (chapels) of the city, the Oratory of San Lorenzo with the famous gesso statues of Giacomo Serpotta. At the end of the tour, if you wish, we'll sample some of the specialties of Palermitan cuisine in the nearby Focacceria.
Palermo and its Gardens (half day, circa 4 hours)
This tour will lead to you to Mount Pellegrino. From the panoramic road an extraordinary sight is to be had of Palermo and its large gulf. We will visit the sanctuary of Saint Rosalie, patron of Palermo. Upon returning to the city, we'll visit the Botanical Gardens of Palermo, one of largest of Italy and one of the more important of Europe. Some twelve thousand varieties of plants from around the world are grown here. We can add other features to this tour based on your requirements.
Segesta and Erice (full day, circa 8 hours, lunch included)
Segesta is one of the best-preserved Greek temples. Erice is a scenic hilltop town founded by Phoenicians. We'll explore the vast Segesta archeological site first. Then it's on to Erice. Following a break for lunch during which we'll sample some local specialties like couscous, we'll explore this delightful town and then return to Palermo (Please note that travel time between Palermo and the Erice/Segesta area is approximately 60 minutes each way.)
Agrigento (full day, circa 8 hours, lunch included)
We'll reach Agrigento after crossing the Sicanian Mountains heading southward. Pindar defined Agrigento "the most beautiful city of the mortals." It was one of the most powerful Greek colonies of Sicily during the 5th century BC (BCE). We'll stroll among its wonderful temples for around two hours. We will visit, inside of the archaeological park, the Kolymbetra, a small natural oasis and garden recognised by the WWF. Following a break for lunch during during which we'll sample some local specialties, we'll return to Palermo (Travel time between Palermo and Agrigento is approximately 90 minutes each way; this day-trip is better suited to visitors staying overnight in Palermo than to cruise passengers who have limited time ashore.)
Wine Country Cookery (full day, 7 hours)
Following a visit to a historic winery in Marsala, venture to an aristocratic estate amidst vineyards for a cooking demonstration, leisurely country lunch and wine tasting in the heart of Sicily's scenic wine region.
Culinary Curiosities (full day, 7 hours)
A visit to one of Palermo's colourful street markets, established as Arab souks in the 9th century, followed by lunch and a wine tasting. This is a walking tour.
Theme Tours
As you can see from these descriptions, it's easy to plan a personal walking tour dedicated to a specific theme. Examples are Baroque or Byzantine architecture, the Kalsa of Palermo, Judaic Palermo, the local gardens, Palermo's castles, places mentioned in film or literature.
---
One can personalise virtually any multi-day or week-long itinerary. These are leisurely journeys across beautiful, untouched and unusual landscapes, gently rolling hills of citrus orchards, olive groves and vineyards, which extend toward lava fields around Mount Etna and its picturesque villages. Europe's largest volcano is its greatest natural wonder. It also has a longer recorded history than any other volcano in the world. You'll discover a unique culture resulting from three thousand of years of history, shaped by a dozen conquering civilisations. Here is a sample itinerary.
Details: Eight days and seven nights: Palermo (2 overnights), Taormina (3 overnights), Agrigento (1 overnight), Palermo (1 overnight). Requires a minimum of 2 participants to a maximum of 8.
1st Day (Saturday) Palermo
Arrival on Palermo Airport and transfer to your hotel in the city centre. Welcome cocktail with introduction of the program by your guide. Dinner in a restaurant offering typical Sicilian specialties.
2nd Day (Sunday) Palermo and Monreale
Following breakfast, early departure for the city of Monreale overlooking Palermo, with its 12th-century cathedral, featuring extensive Byzantine mosaics and a large cloister. From Monreale return to Palermo for a walking tour of the old city including the medieval Norman-Arab cathedral, the Ballarò street market and Piazza Bellini. Visit of the Martorana church with its Norman-Arab architecture and Byzantine mosaics. Also Piazza Pretoria fountains and the Baroque Quattro Canti toward the Teatro Massimo, one of Europe's largest opera houses. Afternoon and evening at leisure.
3rd Day (Monday) Cefalù and Nebrodi Mountains
Visit of Cefalù, a small medieval town up the coast from Palermo at the base of the Madonie Mountains. Cefalù is dominated by the Rocca, a 250 metre high cliff formation bearing traces of the locality's settlement by ancient Greeks. Vestiges remain of a 12th-century Norman fortress. The cathedral, though constructed in the Romanesque style, shows early Gothic influences. Inside, it is dominated by a Byzantine mosaic of Christ Pantokrator in the upper apse. Leaving Cefalù, we'll travel along the coast eastward toward Messina, passing the scenic Nebrodi Mountains. Then on to San Fratello to the Miraglia Forest, for lunch on a working farm. The past Cesarò and Randazzo along the north side of Mount Etna to Taormina for the evening.
4th Day (Tuesday) Pantalica Necropoli
Located near Siracusa, Pantalica boasts one of the largest neolithic complexes in the world, built by the ancient Sikels. Homes were carved into the stone by the Greeks and early Christians. The surrounding areas are dotted with citrus orchards. Afternoon at leisure followed by free time and overnight at charming Taormina.
5th Day (Wednesday) Etna Jeep Excursion
Jeep excursion to the summit region of Mount Etna, Europe's highest active volcano. This will be followed by a farmhouse lunch, where some local specialties will be served. Returning, we'll visit the Alcantara Gorge, carved into stone by the stream fed by Mount Etna. Return to Taormina.
6th Day (Thursday) Caltagirone and Agrigento's Valley of the Temples
Following breakfast, departure for Caltagirone, well-known for its ceramic (terra cotta) art. This is a charming town of the mountainous Sicilian interior. There'll be time for shopping in the numerous small shops. From Caltagirone the trip continues toward the island's southern coast, to Agrigento. This was one of the largest, most prosperous cities of Greek Sicily. We'll see the temples and other sights of the large archeological park, and the Kolymbetra Gardens. Dinner at the hotel. After dinner a brief excursion to view the illuminated temples by night. Overnight at Agrigento.
7th Day (Friday) Sant'Angelo Muxaro
Visit of Sant'Angelo Angelo Muxaro, site of an ancient Sicanian city built along the Platani River (the ancient Halycos) before 1,000 BC. Here you'll meet Donna Concetta, who will introduce you to some Sicilian pizzas, breads and pastries. After a light lunch, visit of Sant'Angelo Muxaro. In the afternoon we'll return to Palermo, driving through the scenic Sicanian Mountains. Farewell dinner in a restaurant in Palermo. Overnight at Palermo.
8th Day (Saturday) Palermo
Transfer to the Palermo Airport.
---